Why is Barnes and Noble cutting prices on the Nook Tablet?
(Read article summary)
The Nook Tablet and Nook Color got a price drop this week. And no wonder: The budget tablet market is about to get a whole lot more crowded.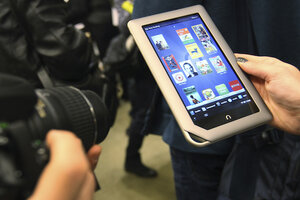 Reuters
Barnes & Noble announced today that it would cut the prices on both the Nook Tablet and the Nook Color e-reader. Beginning this week, the 16GB Nook Tablet will sell for $199, down from $249; the 8GB model, meanwhile, goes from $199 to $179. As for the Nook Color, which has always straddled the middle ground between tablet and plain old e-reader, expect to pay $149.
Post-price cut, "customers can enjoy our best-in-class digital reading and entertainment experience with an expansive selection of digital content and apps at an unbeatable price," Barnes & Noble exec Jamie Iannone said in a press statement today.
So what's behind the price cut? Well, on the one hand, it's a simple matter of age: The Nook Color, which was first released in 2010, and the Nook Tablet, introduced in 2011, are getting a little stale.
On the other hand, Barnes & Noble is about to have a little more company in the budget-priced tablet market. Sometime this fall, Amazon is widely expected to unveil a new line of Kindle Fire tablets – perhaps as many as 5 or 6 models, including a 10-inch model, according to Reuters. As opposed to the iPad, which is seen as more of a luxury device, the new Fires will likely be priced around $200.
---