Samsung Galaxy Note 10.1: Should you get it over an iPad?
(Read article summary)
The Samsung Galaxy Note 10.1 doesn't pack the same quality display as the iPad. But it does have something Apple doesn't: a stylus.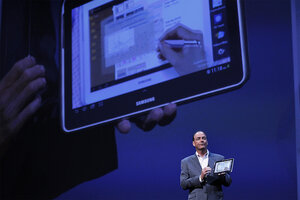 Reuters
Samsung, which is beating Apple in the global smartphone race, today announced the Thursday launch of the Galaxy Note 10.1 – a tablet designed to compete directly against the Apple iPad. The Galaxy Note 10.1, as the name indicates, will ship with a 10-inch screen, a 1.4GHz quad-core processor, and 2GB of internal RAM.
As the Associated Press notes, Apple's iPad offers better display resolution. But the Galaxy Note 10.1 has something the iPad does not: a digital pen, or stylus, which can be used to scribble notes or draw pictures and diagrams. For that reason, the Note 10.1 has been billed by Samsung as the perfect tablet for students and design professionals. (In addition, the tablet is capable of running two apps side-by-side, in split-screen mode – key for multitaskers.)
The Note 10.1 will retail at two price points: $499 for the 16GB model and $549 for 32GB. So how does the device stack up? Well, the Note 10.1 has received generally high marks from critics, who have praised the under-the-hood processing power and accessible UI.
---