Facebook reportedly asking employees to replace iPhones with Android devices
(Read article summary)
Facebook wants to improve its 'horri-bad' Android app. The way to do it? Make Facebook employees use Android phones.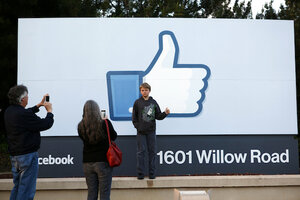 Reuters
Facebook is asking its employees to replace their iPhones with Android handsets. 
So says Owen Thomas of Business Insider, who reports that the informal – and as of yet unconfirmed – iPhone ban is part of an effort to bring the Facebook Android app up to date. "Facebook management realizes its Android app is subpar – and believes that the only way employees will take fixing it seriously is if they have to deal with its issues day in, day out," Thomas writes. "It's a practice called 'dogfooding,' from the phrase 'eating your own dog food.' " 
Thomas attributes his report to a "handful of ex-Facebookers and others familiar with Facebook's plans" – Facebook, for its part, is staying mum. So take the whole thing with a grain of salt. But it does make sense that Facebook would want to keep tweaking its Android application, which has been called "terrible" and "shoddy" and even (our favorite) "horri-bad."
There's a big push to do more with mobile at Facebook – it's a "mobile first" strategy, the Times reported recently. 
Horizons readers will remember that this week Facebook rolled out a new native iOS app, which reportedly runs twice as fast as previous iterations, and allows users to instantly load photos and News Feed items. "We've rebuilt the app from the ground up, so now the app opens much faster and your news feed and notifications load right when you open Facebook," Facebook product manager Mick Johnson wrote yesterday. 
No word yet on when the Android app will get an overhaul of its own. 
---