Samsung to pay Apple $1 billion? Not so fast.
(Read article summary)
In the wake of the verdict, Apple is promising to seek an injunction against at least eight Samsung phones. But Samsung says it will battle back.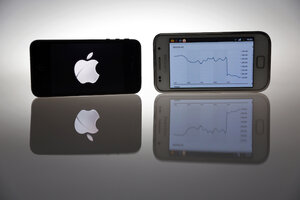 Reuters
On Friday, a jury in California ruled that Samsung had infringed on a range of Apple patents, and ordered the Korean company to pay Apple more than $1 billion in damages. The verdict, in the words of one onlooker, was a "major win" for Apple, which is now seeking an injunction against at least eight Samsung handsets that use the affected patents. It's a major mess for Samsung.
But in a message to employees today, Samsung vowed it would not let the ruling stand.
"History has shown there has yet to be a company that has won the hearts and minds of consumers and achieved continuous growth, when its primary means to competition has been the outright abuse of patent law, not the pursuit of innovation," the memo read, according to CNET. "We trust that the consumers and the market will side with those who prioritize innovation over litigation, and we will prove this beyond doubt."
A longshot? Well, not necessarily.
As CNN points out, plenty of legal experts expect the verdict to be overturned. "This story is far from over," writes Duke law professor Mark Webbink, who has wondered if the jury didn't perform a bit of a rush job.
---