Meet the Lumia 920 and 820, Nokia's first Windows Phone 8 handsets
(Read article summary)
The Nokia Lumia 920 and Lumia 820 are powered by Windows Phone 8. Do they live up to the hype?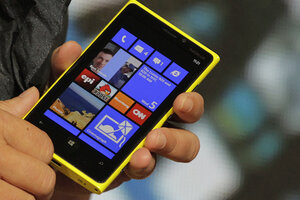 Reuters
A week after Samsung introduced the first Windows Phone 8 handset, Nokia has taken the wraps off two new devices of its own: The Lumia 920 and the Lumia 820. Both handsets will come equipped with Microsoft's latest mobile operating system, and both handsets will boast a powerful 1.5GHz Dual Core Snapdragon S4 processor. But the Lumia 820, with its less-glitzy camera and display, is a device for budget-minded shoppers. 
The Lumia 920 is the real prize – a full-featured phone for die-hard phone geeks. Unlike the 820, the 920 will be equipped with a 8.7-megapixel camera with Nokia PureView advanced optical imaging stabilization and Carl Zeiss optics; also check out the 1.2-megapixel front-facing camera and 4.5-inch HD screen, complete with so-called "ClearBlack" technology, which Nokia claims makes the display easier to see in bright sunlight. 
So is the 920 as good as it sounds? Well, PC World's Amber Bouman got an early hands-on with the device, and she, for one, is smitten. 
"All in all, the Lumia 920 looks lovely, performs smoothly, and has a deluge of features – especially if your smartphone doubles as a camera," Bouman writes. "While many of the physical aspects of the new phone were similar to the older Lumia models – save for that exceptional camera – it's the software that really stands out."
She reserved special praise for the Windows 8 tiled interface, which operated "without any lag."Â 
Over at Gizmodo, meanwhile, Kyle Wagner calls the display on the 920 "gorgeous. It's bright and defined and photos look incredible on it," he adds. "The start screen looks great, but photos especially look amazing. We couldn't use the PureView camera, which looked so amazing in the demos, but the onboard photos were displayed tack sharp. The phone's [pixels per inch] is dead even with the iPhone's 326 PPI retina screen, and in the real world, it looks just as good."Â 
So when will Nokia actually launch its new Windows 8 device? It's unclear, but we expect the 920 to hit shelves sometime in the next month, give or take – the better to go head-to-head with the iPhone 5, and also the better to take full advantage of the holiday shopping bump. 
---