At $199, Kindle Fire HD isn't an iPad – but it doesn't need to be
(Read article summary)
The Kindle Fire HD line will hit shelves this fall. How does the latest Fire stack up to its competitors?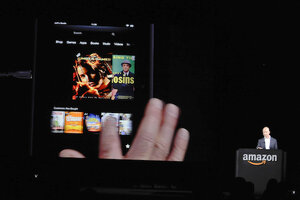 Reuters
The Kindle Fire line is getting a makeover.
Yesterday, Amazon CEO Jeff Bezos unveiled a quartet of new Amazon tablets, including three HD models and one regular Fire model, which will retail for just $159. The cheapest of the HD tablets, a 7-inch device, is getting a price-tag of $199; the most expensive, an 4G LTE-equipped powerhouse, is set to sell for $499, on par with the cheapest iPad. (You can read all about the devices here.)
Amazon's strategy seems pretty clear: keep prices low, undercut rivals such as Apple, and watch as consumers use their Kindle Fire tablets to download a whole lot of Amazon content, such as e-books to movies. So how does the Kindle Fire HD line compare to the iPad – or to the earlier model Kindle Fire? Well, Amazon issued test copies to news outlets this week, and for the most part, reviewers like what they see.
---