iPhone 5 features: faster, slimmer – but not exactly overhauled
(Read article summary)
On Wednesday, Apple unveiled its latest smartphone, the iPhone 5. We take a peek under the hood.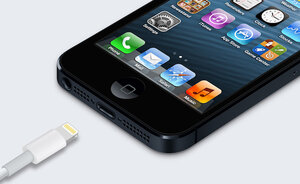 Apple
The iPhone 5 is here.
On Wednesday, Apple marketing chief Phil Schiller exuberantly unveiled the latest addition to the top-selling iPhone line, which he said was at least 18 percent thinner and 20 percent lighter than the iPhones that have come before. Measuring 4.87 inches from bottom to top, and boasting a 4-inch "retina display" screen, the iPhone 5 is also taller than previous iPhone models, but not wider.
It's a good looking phone, obviously – a "jewel," in Schiller's words. But consumers hoping for a major iPhone makeover may be disappointed. The iPhone 5 retains the boxy shape and hard lines of the iPhone 4 and iPhone 4S (although it includes a two-tone brushed aluminum frame). There's no radically curving glass here – no groundbreaking and risky design elements. For that, we'll probably have to wait yet another year.
---