iPhone 5 reviews: The verdict on the new Apple smart phone is in
(Read article summary)
The Apple iPhone 5 officially launches on Friday. So how good is this new iPhone, anyway?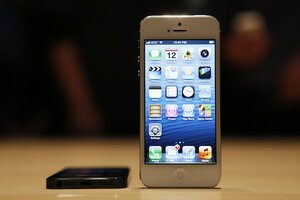 Reuters
Friday marks the official launch of the iPhone 5. Expect long lines at Apple stores, a throbbing hurricane of media hype, and probably another boost to Apple stock, which earlier this week topped $700 per share – an all-time high for the Cupertino tech titan. But just how good is the iPhone 5, exactly? Well, according to a range of reviews posted to the Web today, it's very good indeed.
"On balance," Walt Mossberg writes at The Wall Street Journal, "I still consider the iPhone the best smartphone on the market." Mossberg singles out for praise the snappiness of the device: "Apple has finally connected the iPhone to the fastest cellular data network, called LTE, and data downloads and uploads just fly, even when you aren't on Wi-Fi," he writes. "Also, the processor now has twice the previous speed."
---