iOS 6 Apple Maps launches to a cacophony of jeers
(Read article summary)
iOS 6 is here. But Apple Maps, an integral selling point of both iOS 6 and the iPhone 5, has been slammed by critics.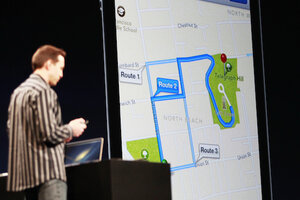 Reuters
Just about every Apple product launch comes with some sort of backlash.
With the iPhone 4, it was the so-called "death grip." With the new iPad, it was Wi-Fi issues. And with the iPhone 5 and iOS 6 it's the new Maps app, which has been called everything from a "flop" to a "debacle" to just plain "ugly."
Some backstory: For many years, Google Maps was the default mapping app on the iPhone. Now, beginning with the iPhone 5 and iOS 6, the default mapping app will be Apple Maps, an in-house product.
Why boot Google Maps? Because Google is a competitor in the smartphone market. And there's no use giving a competitor stage space on your flagship device. Which would all be fine if the "the best smartphone on the market" wasn't running a deficient mapping application.
---