Apple factory brawl? Rioting at Foxconn plant delays production.
(Read article summary)
Apple factory brawl? A brawl in Taiyuan, China, leaves at least 40 Foxconn workers injured. Foxconn's factory network makes parts for Sony, Amazon, and Apple. No word on what devices will be affected.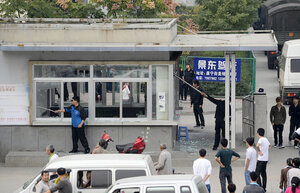 Reuters
In the US, the iPhone 5 has launched to blockbuster sales. In Taiyuan, a city in northern China, rioting has consumed a plant operated by Foxconn, a Taiwanese company that provides parts for many Apple products.
According to the BBC, the riots stemmed from a "personal dispute" in a Foxconn dormitory; by late Sunday evening, the fighting had spilled into the surrounding streets (see photo above).
The BBC reports that over 5,000 police officers were sent to Taiyuan, effectively ending the riots. 40 people were reportedly injured in the fighting, three critically. It remains unclear whether the Taiyuan Foxconn plant was a major Apple supplier; speaking to the New York Times, a Foxconn spokesman would say only that the factory "supplied goods to many consumer electronics brands." (Foxconn works with a wide range of companies, including Sony and Amazon.)
---