iPhone 5 will see Google Maps app by end of year: report
(Read article summary)
Google Maps could be coming back to the iPhone a lot sooner than any of us thought.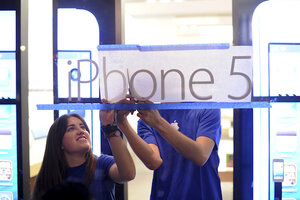 Reuters
The iPhone 5 was well-received by critics and consumers alike, with one major exception: Apple Maps, the in-house replacement for Google Maps, which had been a default app on the iPhone for years. Apple Maps, detractors argue, is a "flop," a "debacle," and just plain "ugly."
One analyst summed up the problem thusly: "In the short term, Google has a better mapping application, and iPhone customers will suffer."
But maybe not for long. According to a new report in The New York Times, Google will release a new iOS 6 maps app, perhaps within the next couple of months, and almost certainly before the end of the year. The Times sources its article to "to people involved with the effort who declined to be named because of the nature of their work"; neither Apple nor Google has offered official comment. Still, this is one rumor that we buy.
---