It's official: Windows Phone 8 will launch October 29th
(Read article summary)
Microsoft sent press invitations this week announcing the launch of its Windows Phone 8 platform on October 29. The smart phone OS will run on handsets from Nokia, Samsung, and HTC -- and there's a rumor that Microsoft may be working on its own model as well.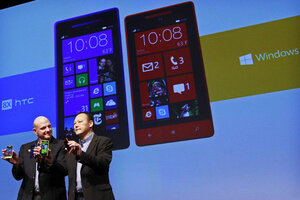 Brendan McDermid/Reuters/File
After months of dropping hints, Microsoft is finally ready to make its big announcement. On October 29, it'll unveil Windows Phone 8, the company's answer to the dominant Android and iOS phone software. The company sent out press invitations on Thursday to a press event in San Francisco on the 29th.
That means we'll finally learn more about the features of the OS, finally get a good look at the handsets it'll run on, and -- if Microsoft sticks to the schedule -- finally get a software development kit so developers can create apps for Windows Phone 8.
Keep in mind that October 29th isn't the date you'll actually be able to buy a Windows Phone 8 handset -- that'll be a few days (or weeks) later. But Microsoft has made only vague promises for so long (until recently, we knew only that Windows Phone 8 would be introduced sometime in autumn) that it's nice to have a specific date to look forward to.
Though there are still a lot of things we don't know about Windows Phone 8, Microsoft has made some details public. Here's a quick rundown of what's already known: the OS has a tile-based look and feel, support for wireless payment (think tapping your phone instead of swiping a credit card), and built-in navigation and video chat.
It'll also be relatively easy to port Android and iOS apps to Windows Phone 8, which should make developers happy. And one other plus: users will be able to get software updates directly from Microsoft, rather than having to wait for carriers such as Verizon, AT&T, and Sprint to release phone-specific updates -- a common complaint among many Android users.
---