RIM's pitch: Earn $1,000 off a BlackBerry 10 app, RIM will pay you $10,000
(Read article summary)
RIM desperately needs a hit with BlackBerry 10, which may not launch until March of next year.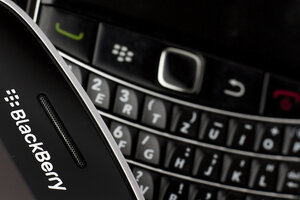 Reuters
Last month, at an event in San Jose, RIM demoed a range of select apps for its forthcoming BlackBerry 10 operating system. Today, the company has thrown open the doors of its App World platform to all developers, and begun offering something called a "$10K Developer Commitment." The gist of the thing is pretty simple: build an app for BB10, earn $1,000 in net revenue (in-app payments count), and RIM will pay you $10,000.
"Our goal is to get a mass of apps in the store ahead of launch," Alec Saunders, RIM's vice president of developer relations, told PC Mag today.
Now a more pressing question: When will BlackBerry 10 actually launch? Well, RIM is officially saying first quarter of next year. That could mean January, but many analysts believe February or March is probably closer to the mark.
"Some simple math tells us that if RIM really does get its BB10 devices to carriers for certifications this month (let's say October 15 for the sake of argument), January 15 is the absolute earliest those devices might be ready for sale," writes Eric Zeman of InformationWeek. "But that's not very likely. It's more likely that it will be February 15 before the devices are certified to run on the wireless networks."
---