Winsor McCay: Remembering the artist behind Little Nemo (+video)
(Read article summary)
Winsor McCay's 'Little Nemo in Slumberland' celebrates its 107th anniversary today. So who was Winsor McCay?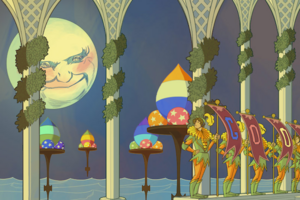 Google
The Google homepage today depicts an old-fashioned comic strip, in muted hues of blue, red, green, and yellow. Click on the tab on the bottom right of the doodle, and watch a pajama-clad boy tumble, panel by panel, through a fairytale land of clouds, castles, and princesses, before finally landing back in his own bedroom. The doodle is an homage to the artist Winsor McCay, and his most famous creation, Little Nemo, which turns 107 years old today.
So who was McCay, exactly? Only one of the most influential cartoonists in history.
McCay was born in Canada, probably around 1867 or 1868 – the exact date and location remain unclear. When McCay was still a child, his family moved from Canada to Spring Lake, in Michigan. The young McCay drew fervently, and and around 1880, one of his illustrations, of a sinking steamer, was apparently snapped up for use in postcards.
Eventually, McCay was discovered by John Goodison, a drawing professor at Michigan State Normal School. Goodison agreed to tutor McCay informally, although McCay never officially enrolled at Michigan State. In his spare time, McCay wandered the local "dime museums" – an attraction popularized by P.T. Barnum – and drew cariactures for passersby.
---