Apple promises 'a little more' on Oct. 23. iPad Mini incoming?
(Read article summary)
Apple has scheduled a press event for Oct. 23, when it is widely expected to unveil a pint-sized iPad Mini.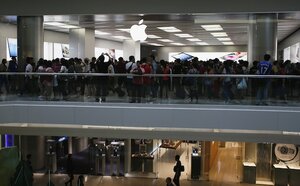 Reuters
Apple today issued invitations to a press conference on Oct. 23 at the California Theater in San Jose, Calif. The invite is dominated by splatters of multi-colored paint, a gigantic white Apple logo, and a line of cryptic text: "We've got a little more to show you."
So what does Apple have planned for its event next week? Almost definitely a pint-sized tablet, which may or may not be called the iPad Mini. 
Rumors of a smaller iPad began circulating as early as last year, but in recent months, more and more details of the device have hit the press. For instance, it's widely expected that the Mini will get a 7.85-inch display (measured diagonally, corner to corner), on par with the Amazon Kindle Fire, but significantly smaller than the current iPad, which sports a 9.7-inch screen.
A high-def "Retina Display" probably won't be included, but the Lightning dock connector probably will. Â 
One major question remains: What kind of price will Apple slap on the iPad Mini?
Well, a starting price of $250 or $300 sounds about right to Wilson Rothman of NBC. "I think that $249 is the 'all other tablets are dead' price, and $299 is the 'Apple keeps its market share while making a comfortable profit' price. Anywhere over $300 is a 'not good' price," Rothman says. "Not in today's market, not with a full-sized iPad 2 selling for $400 and a Retina-display iPad selling for $500." 
This lines up with a info leaked from European retailer Media Markt, which put the starting price of the Mini at $250 for an 8GB model with Wi-Fi. 
---