Google's lackluster earnings report leaks early, sending stock into a slump
(Read article summary)
Google mistakingly released its third-quarter earnings report several hours early. And the results? Not good.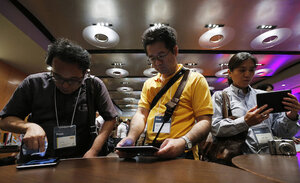 Reuters
Google stock tanked Thursday after Google released its third-quarter results a few hours early – an apparent mistake on the part of the Mountain View company.
"As long as I've been doing this, I have never seen a company reporting in the middle of the day," Christine Short, an analyst at S&P Capital IQ research firm, told USA Today.
Worse yet, the results were widely viewed as a disappointment: Google's net income is down from $2.73 billion this time last year to $2.18 billion Thursday, while operating expenses have climbed from $3.28 billion to $4.81 billion.
So what's behind the weaker than-expected earnings? Well, over at Business Insider, Henry Blodget points a finger at Motorola Mobility, which was officially acquired by Google in May.
---