Microsoft Surface: Good marks for the tablet, but how about that software?
(Read article summary)
The Microsoft Surface tablet debuts today. We take a peek at the early reviews.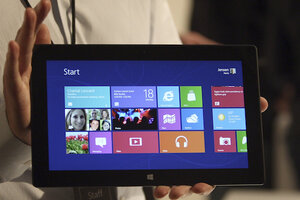 Reuters
After a few months of hype, Microsoft will finally begin selling its Surface tablet tomorrow. The device, which runs the Windows RT operating system, starts at $499 – the same price as the Apple iPad. (To get the patented Touch Cover keyboard, you'll have to fork over an extra hundred bucks.) Microsoft had previously said that pre-order demand was high in the US; in the UK, meanwhile, the base-level Surface appeared to have sold out.
So hey, how does the Surface stack up to competitors such as the Apple iPad and Amazon Kindle Fire?
Well, reviews started to trickle out today, and the consensus seems to be this: The Surface is a good looking and snappy machine, burdened with a less than stellar OS. Over at The New York Times, for instance, David Pogue praises the lines on Microsoft's new tablet.
"The edges of the black magnesium body are angled and crisp, like a prop from a Batman movie. Then there's the kickstand. The lower half of the back is a hinged panel, held shut magnetically until you pop it out with a fingernail. It snaps to a 22-degree angle, ready to prop the tablet sturdily upright," Pogue writes. "A lesser kickstand would add weight, bulk or ugliness. But this one is razor-thin and disappears completely when you're not using it."
Still, Pogue warns, the software on the Surface is "heartbreaking." As Pogue points out, the Surface isn't running Windows 8. It's running Windows RT.
---