iPad Mini review roundup: slim shape, sharp lines, sub-par screen
(Read article summary)
The iPad Mini is a good-looking tablet, reviewers say. But the screen is less than impressive.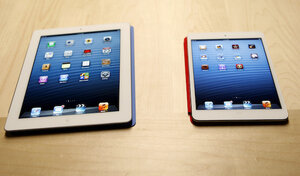 Reuters
On Friday, Apple will begin selling its long-awaited iPad Mini – a pared-down, super-slim tablet with a 7.9-inch display and an A5 processor. The Mini starts at $329, for a 16GB Wi-Fi-only model; 4G LTE-capable versions are set to ship in early- to mid-November. Reviews of the new Apple tablet begin to leak out today. So what kind of device is the iPad Mini, exactly?
Well, let's start with the obvious: The size. As Harry McCracken of Time notes, the Mini is 0.28 inches thick and weighs just 0.68 pounds.
"That's not just a drastic reduction from the large iPad, which weighs more than twice as much, it's also trimmer than Apple's smaller-screen competition," McCracken writes. "One of the persistent gripes I hear from iPad skeptics is that the existing models are too big and bulky to hold comfortably; if there were an industry award for Tablet You Can Most Easily Envision Holding for Extended Periods of Time, the Mini would be a runaway winner."
Shane Richmond of The Telegraph, in the UK, agrees, calling the Mini "the best looking tablet computer anyone has designed."
Ever!
"There are plenty of people who care nothing for how a gadget looks. The specificationists are more interested in processor cores, USB ports and whether they can root their operating system. That's fine," Richmond writes. "They'll be unmoved by the sleek metal back and the chamfored edges of the iPad mini. Nevertheless, this is a device that looks and feels great."
---