Judges say Apple statement on Samsung went too far
(Read article summary)
Apple lost a court battle with Samsung last month, and was ordered to post a statement to its Website admitting that Samsung did not infringe on its patents. But a trio of British judges are unhappy with the tone Apple struck in the statement.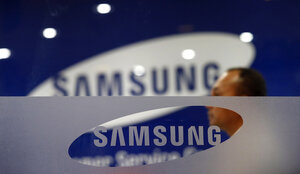 Reuters
Apple has long contended that Samsung, in building its Android line of phones and tablets, stole a few design cues from the iPhone and iPad. But last month, Apple definitively lost a legal battle in the UK to prove those claims, and a British court ordered Apple to post a statement on its Website, admitting Samsung didn't actually steal anything. Which Apple has done – sort of.
In the statement, Apple included two paragraphs taken directly from the ruling, including a line that basically inferred that the Galaxy tablets weren't copied from the iPad, because the iPad is actually "cool." (We're not kidding – take a look.) Apparently unable to resist itself, the company then noted that a similar case in Germany had found Samsung guilty of engaging in "unfair competition."
"A US jury also found Samsung guilty of infringing on Apple's design and utility patents, awarding over one billion U.S. dollars in damages to Apple Inc.," Apple wrote. "So while the UK court did not find Samsung guilty of infringement, other courts have recognized that in the course of creating its Galaxy tablet, Samsung willfully copied Apple's far more popular iPad."
---