iPad Mini launches to middling lines, muted expectations
(Read article summary)
The iPad Mini is here. So what kind of sales performance will the new Apple device turn in?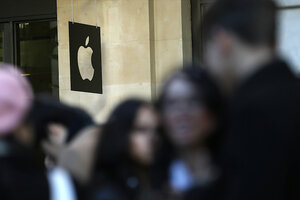 Reuters
Apple has an uncanny ability to whip up fandom. What other company can lure hundreds of people to a wait in line for a gadget launch – and have the press call that a weak showing?
Well, the iPad Mini arrives today. If anecdotal evidence is to be believed, the lines out there are relatively short, at least compared to the crowded and blockbuster launches of devices such as the iPhone 5.
In Hong Kong, according to CNN, there were only a few Apple fans hovering around the flagship store. Fifty people were queued up outside a story in Sydney, and 100 in Amsterdam, Seoul, and Tokyo, Reuters reports.
So yes, substantial interest, but from far from the typical all-consuming pandemonium.
Still, plenty of analysts remained optimistic about the Mini's chances.
"We continue to believe that while launch lines and initial weekend sales may not be as impressive as previous iPad launches, the iPad Mini will be a hit product for Apple and become a more significant part of the story over the next 2-3 quarters," Gene Munster of Piper Jaffray wrote in a note to clients obtained by MarketWatch.
---