Acer to Microsoft: Hardware is our game, stick to software
(Read article summary)
An Acer exec has compared hardware manufacturing to a tough meal – and speculated that Microsoft may find it difficult to chew.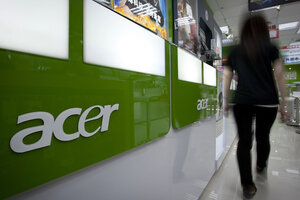 Reuters
Acer, the Taiwan-based electronics manufacturer, has some strong words for Microsoft.
In an interview with Tencent Technology, Acer executive Lin Xianlang compared hardware manufacturing to "hard rice," and speculated that Microsoft might find it extremely hard to eat. (The full Tencent Technology article is here – we're relying on Google Translate for a rough rendering of the original text.) The hardware in question, of course, is the Microsoft Surface tablet, a rival to Acer-made Windows 8 tablets such as the Iconia.
Lin's message might be paraphrased as: You make the software, Microsoft, and we'll concentrate on the hardware.
But as Sharif Sakr of Engadget points out, "Microsoft's tablet has been boiled and salted just right, which might be the real reason Acer is so averse to it."
---