HTC Droid DNA: Better hope you've got big thumbs
(Read article summary)
The HTC Droid DNA, a new smartphone powered by Verizon Wireless, will be equipped with a massive 5-inch, high-resolution display.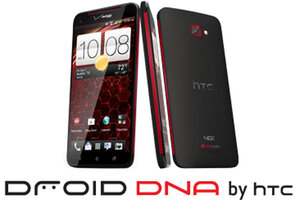 Verizon
We admit to being a little mystified at the rise of the "phablet," a portable device that occupies the awkward middle ground between tablet and smartphone.
Still, the things are apparently selling pretty well – earlier this year, Samsung announced it had sold 3 million Galaxy Note II phablets in just over a month. It was an indicator, TechCrunch argued at the time, of "serious momentum for enormo-phones."
The latest super-sized smart phone to hit the market is the HTC Droid DNA, a slim gadget equipped with a 5-inch HD display. By comparison, the screen on the iPhone 5 measures 4-inches corner to corner – and that was a size upgrade from the 3.5-inch display on the iPhone 4S. So yes, the Droid DNA has a lot of screen real estate. It's also got a record-setting pixel density of 440 pixels-per-inch.
---