Weeks after launch of Windows 8, Microsoft's Windows guru waves goodbye
(Read article summary)
Windows and Windows Live President Steven Sinofsky is leaving Microsoft. What's behind his exit?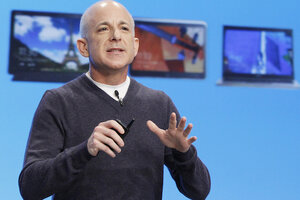 Reuters
Late last month, Microsoft launched Windows 8, officially inaugurating what Microsoft chief Steve Ballmer called a "new era" in desktop and mobile computing. Now, less than three weeks later, Microsoft is waving goodbye to Steven Sinofsky, the executive in charge of the Windows group at Microsoft. In a press release, Microsoft announced that Sinofsky would be replaced by Julie Larson-Green, a longtime Microsoft employee.
"It is impossible to count the blessings I have received over my years at Microsoft," Sinofsky said in a statement. "I am humbled by the professionalism and generosity of everyone I have had the good fortune to work with at this awesome company."
So what's behind Sinofsky's exit? Well, Microsoft is saying the whole thing is mutual and amicable. Others aren't so sure.
---