Next Xbox will include Blu-ray, Kinect 2.0, and AR glasses: report
(Read article summary)
A British magazine has published details on the next Microsoft Xbox video game console. Just don't call it the Xbox 720.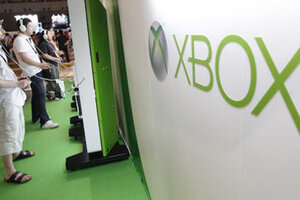 Reuters
Xbox World, a video game magazined headquartered in the UK, has published details on what it claims is the next Microsoft Xbox console.
According to the editors at Xbox World, the new device will be called "Xbox," and not, as others have speculated, "Xbox 720." The magazine says the new Xbox will include improved voice controls, an upgraded Kinect platform, Blu-Ray capability, some sort of "innovative controller," and the ability to record and playback broadcast television.
Down the line, augmented reality glasses could even be part of the equation.
Microsoft, for its part, has not commented on the Xbox World report, and it's not clear where the magazine obtained its information.
---