Galaxy Note II hits 5 million mark in two months
(Read article summary)
Does the success of the plus-sized Samsung Galaxy Note II portend a rosy future for the 'phablet' market?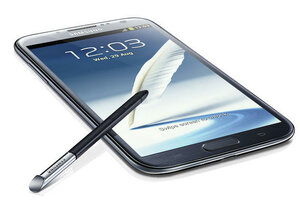 Samsung
Samsung has unloaded 5 million Samsung Galaxy Note II handsets in approximately two months, the South Korean company announced this week.
Not bad for a device that occupies the murky middle ground between small tablet and super-sized smartphone. As we noted recently, the display on the Galaxy Note II measures 5.5 inches, corner to diagonal corner, which is an inch and a half larger than the already-pretty-big 4-inch display on the new Apple iPhone 5. (For an extra point of comparison, the Kindle Fire has a 7-inch display.) It even comes with a stylus to help navigate all that screen space.
In his review of Note II, Jared Newman of Time Magazine called the Galaxy Note II something of a "trade-off" – more apps, more room for a bigger battery, but a little less easy to flick around.
"The biggest problem with the Galaxy Note II is the one that's inherent to its size: You cannot comfortably use it with one hand," Newman wrote. "Sure, you can flip through the home screen and scroll through apps with your thumb, but good luck tapping something at the top of the screen, or reaching beyond the home button to either the back or menu buttons (depending on which hand you're using)."
---