Next Mac Mini might be 'Made in USA'
(Read article summary)
Apple CEO Tim Cook said earlier in December that the company would produce some Mac computers in the US in 2013, but he didn't say which ones. A new rumor from Taiwanese tech magazine DigiTimes says the Mac Mini will be moved stateside.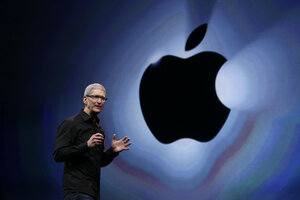 Eric Risberg/AP/File
When Apple CEO Tim Cook announced earlier in December that some Mac computers would be produced in the US in 2013, he didn't give many specifics. The company would invest at least $100 million, he said, to move some of its manufacturing from China to the United States. Lots of news outlets speculated that the iMac line would be produced domestically, since some iMacs with "Assembled in USA" stamps had already started showing up in stores.
Now, the Taiwanese trade magazine DigiTimes says that the Mac mini will be built in the US starting next year.
DigiTimes says Apple will move the assembly of the Mac Mini to an American factory run by its manufacturing partner FoxConn. FoxConn will begin recruiting workers in 2013 for "new automated production lines," DigiTimes says, citing "sources from the upstream supply chain."
It's worth taking this rumor with an extra grain of salt, since DigiTimes doesn't have a great track record when it comes to stories about Apple. Still, the idea of stateside Mac Mini assembly makes a good deal of sense: the machine has fewer parts than either the iMac or the Mac Pro, so it would be better suited for automated production. The Mac Mini also comes in fewer different configurations, meaning it's simpler to produce and doesn't require as much customization on the factory end. If Apple is going to invest the money upfront to establish production lines in the US, the high-volume Mac mini is a good candidate for those lines.
---