A very techy Christmas: 50 million new phones and tablets activated
(Read article summary)
Christmas week saw a record 50 million iOS and Android devices activated, and more than 1.7 billion apps downloaded, according to analytics firm Flurry. On Christmas Day alone 17.4 million new devices were unwrapped.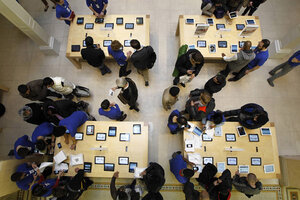 Charles Platiau/Reuters/File
For devicemakers and app developers alike, it was a good holiday season -- to say nothing of the record numbers of happy people who found a new smart phone or tablet under the tree.
Seventeen million new iOS and Android devices were activated on Christmas Day alone in 2012, "more than any other day in history," according to mobile analytics firm Flurry. Over the following week, the number of new devices activated rose to 50 million.
And what would new hardware be without some apps to go with it? The same week saw record-breaking app downloads: 1.76 billion from the iOS App Store and Google Play, up 65 percent from the weekly average from earlier in December. The US accounted for 604 million of these downloads, and China took second place with 183 million -- tempered by the fact that most of China's population doesn't celebrate Christmas.
Flurry's numbers don't include devices running other platforms such as Windows Phone, nor are they a complete record of all phones and tablets. But the firm says it can detect more than 90 percent of the devices activated each day, and its figures are considered pretty accurate. And its conclusion is clear: the last week of the year was the biggest in history for iOS and Android devices and apps.
---