CES 2013: Toyota and Audi roll out new self-driving cars
(Read article summary)
Toyota and Audi are both preparing to show off cars with driverless technology at the 2013 Consumer Electronics Show. Google has been working on driverless cars for years, and big automakers like Toyota and Audi are getting serious about the technology as well.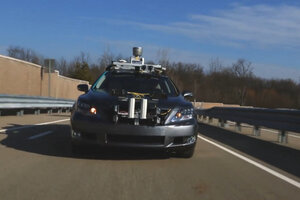 Lexus
You've probably heard that Google has been working for years to develop self-driving cars – but the search-engine giant isn't the only game in town when it comes to autonomous driving. Toyota and Audi are preparing to show off their own semi-driverless cars at the 2013 Consumer Electronics Show, which opens next week in Las Vegas.
Toyota will be bringing a version of its luxury Lexus LS, which sports a spinning radar on top of the car and camera equipment on the front. The car also features technology called Intelligent Transport Systems, which allows the car to communicate with other vehicles on the road as well as with the highway "grid" (think of a decentralized computer network that could, eventually, plan traffic and coordinate each different vehicle's path).
Toyota leaked a video ahead of its Jan. 7 announcement that shows a Lexus LS decked out with driverless technology speeding down a highway.
Audi's a little tighter-lipped with the details, but The Wall Street Journal reports that it will be bringing a car that can find a parking space on its own, and park itself without help from a driver. Audi's been working on autonomous vehicle technology for quite a while, as have Ford and Mercedes-Benz.
---