Pedaling to the top: How bicycles stormed the Detroit auto show
(Read article summary)
More people are biking in cities across the US, a trend that the Detroit auto show incorporated into their 2013 show.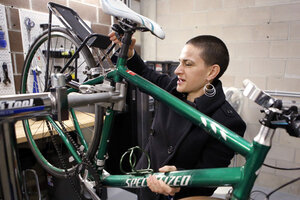 Ed Andrieski/AP Photo
The North American International Auto Show in Detroit opened its doors to reporters on Monday. Members of the media were allowed early access to the upcoming vehicle debuts and latest automotive news. One of the biggest shockers so far has been the prominent placement of bicycles.
"Consumers that may be not that active or may not even have bicycles themselves are going to associate that with an active lifestyle, an outdoor lifestyle, a healthy lifestyle," Jeremy Anwyl, vice chairman of the Edmunds.com auto website, told the Associated Press.
While bikes were not the primary focus of the Press Preview, they have been used to market vehicles in the past.
The Prius X Parlee, seen with other Toyota vehicles, was developed to be lightweight bicycle and include electronic shifters as well as a smartphone dock.
Coincidentally, the North American International Anti-Auto Show opens on Friday at the Contemporary Art Institute of Detroit. The show is an art exhibition featuring alternative modes of transportation.
The NYTimes reported that the timing is not meant to pit bicyclist against driver but rather to highlight "the environmental consequences of the automobile and the things that come from a heavy car culture."
---