Surface Pro tablet arrives in early February
(Read article summary)
The Microsoft Surface Pro tablet will go on sale February 9th. The Surface Pro runs a full version of Windows 8 and can support desktop and legacy programs.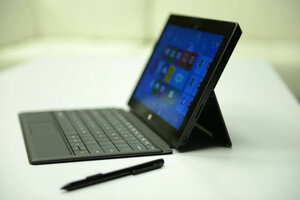 Microsoft
When the Microsoft Surface came out last year, there was a fair bit of confusion about what, exactly, it could and couldn't do. Microsoft hyped the tablet as one of the first devices running the Windows 8 operating system -- but the Surface runs Windows RT, a slimmed-down version of Windows 8. Even though the Surface can run full-fledged versions of Microsoft Office and a few other apps, it isn't compatible with older Windows programs.
If you're confused, you're not alone. Lots of people felt that the distinction between Windows RT and Windows 8 didn't make sense, especially since Windows 8 was specifically designed to work equally well on both tablets and computers. Microsoft promised that a full Windows 8 version of the Surface would be coming soon -- and after more than half a year of silence, we finally have a release date: the Microsoft Surface Windows 8 Pro, as it's formally known, will hit stores in the US and Canada on February 9th.
The Surface Pro is faster as well as a little bigger than the regular Surface tablet. It sports a 10.6-inch display and an Intel Core i5 processor, and comes in two models: a 64GB version for $899, or a 128GB version for $999. That's a $200 price increase over the Surface RT, but the Pro is a faster machine -- and the big upshot is that it can run any program that works on a desktop, as well as apps from the Microsoft Store.
---