Macmillan settles e-book dispute with the Department of Justice
(Read article summary)
Macmillan has settled an antitrust lawsuit with the Department of Justice. The DOJ claimed Macmillan, along with Apple and other e-book publishers, were conspiring to raise prices.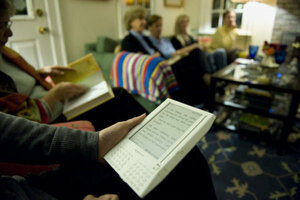 Mary Knox Merrill/CSM staff photographer
After almost a year of litigation, Macmillan has reached a settlement with the US Department of Justice. The DOJ was suing Macmillan for allegedly conspiring with Apple and other publishers to raise the price of e-books.
The settlement, which still needs to be approved by a Judge in Manhattan, requires Macmillian to lift any restrictions they have on retailers discounting e-books. They will also have to report their communications with other publishers to the DOJ and are prohibited from entering new contracts that impose such restrictions until 2014. Once approved, Apple will be the only defendant left to battle against the suit.
Macmillan chief executive John Sargent posted a letter online, explaining that the settlement comes after he had received an estimate of the maximum damage.
"I cannot share the breathtaking amount with you, but it was much more than the entire equity of our company," writes Mr. Sargent. "We settled because the potential penalties became too high to risk even the possibility of an unfavorable outcome."
Apple continues the case, insisting that they and the other publishers were not conspiring. Apple claims that it was instead fighting a "monopoly" by Amazon. According to CNET, Apple says that the government has sided with Amazon. In a legal memo released in August, Apple called Amazon the "driving force" behind the suit. Apple argued that Amazon spoke with government officials frequently throughout the investigation.
---