Wikipad gaming tablet: Still alive, and coming in spring
(Read article summary)
The Wikipad, an Android tablet with a console-style gaming dock, was supposed to launch late last year. The company discovered some problems, but now the Wikipad is back with a 7-inch screen and a $249 price tag.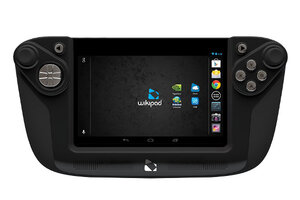 wikipad.com
The Wikipad: it's the Android gaming tablet that was, then wasn't, and now is again (probably). Last October, Wikipad Inc. was all set to sell the 10-inch tablet in stores when it discovered a flaw in the first batch of products. As the months went by, observers started to worry -- but this Thursday the company announced that the tablet is still alive and will be available this spring.
The tablet's makers took advantage of the hiatus to scale it down to 7 inches and drop the price from $499 to $249, while keeping the specs the same. The Wikipad looks like a garden-variety Android tablet, but drops into a special dock that has console-style controls on the edges. It's designed to be a serious gaming device, but one that's also useful for browsing the web, playing videos, and connecting with friends.
The redesigned, 7-inch Wikipad runs Android 4.1 "Jelly Bean" and keeps all the specs of its 10-inch predecessor: a high-resolution (1280 x 800) display, 16GB of storage and a slot for up to 32GB more, a Tegra 3 processor, and a front-facing camera for video chatting. The gaming controls on the dock look like what you'd expect to see on a console -- one analog stick on either side, a directional pad on the left, and four buttons on the right.
By the way, if you were hoping to buy the 10-inch version of the Wikipad, take heart. The company says that model is still in the pipeline. Though the original display for that model was apparently discontinued, the company is rumored to have new production parts lined up and a plan to release a 10-inch Wikipad later this year.
---