Microsoft's vision: What an upgraded Kinect means for consumers
(Read article summary)
Microsoft has demoed the latest upgrades to the Kinect. Grabbing, pinching, swiping – it's all a part of Microsoft's vision for the future and the Kinect is leading the way.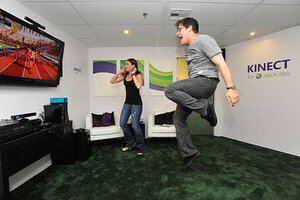 Vince Bucci/AP Images for Xbox
Walls with digital interfaces, voice-controlled machinery – that's the future that Microsoft has envisioned. With the company's latest boost to the Kinect, it may actually be possible.
This week, Microsoft debuted new research into what the Kinect hardware is capable of. The research allows for gesture controls like pinch-to-zoom and swiping as a way to control a PC.
The Kinect was originally released for the Xbox 360, Microsoft's gaming console. The Kinect, an add-on device, hooks up to the Xbox 360 and allows users to control their Xbox without a controller. This means that people can use gestures and voice commands to control their Xbox experience.
Microsoft soon capitalized on what became the world's fastest-selling gadget. Do-it-yourselfers quickly began taking advantage of the Kinect, creating code and using the motion-sensor device for much more than controlling video games. The vast array of uses that hackers created for the Kinect led Microsoft to release a Windows software development kit (SDK).
In a video on the Engadget website, Cem Keskin, a researcher at Microsoft Research in Cambridge, England, demonstrates the way the enhanced Kinect works. The Kinect now sees hands as hands, as opposed to seeing them as a single point in space. Technically, the hands are seen in "hand states" meaning they are either opened or closed.
"Since we have these two hand states we can simulate hand grip and therefore, we can inject touch events to drive Windows applications," says Mr. Keskin in the video.
---