Rumor: Google Shopping Express will compete with Amazon Prime
(Read article summary)
TechCrunch reports this week that Google is developing Google Shopping Express, a retail service offering same-day shipping, will compete with Amazon Prime. Google Shopping Express could cost between $64 and $69 a year, according to the rumor.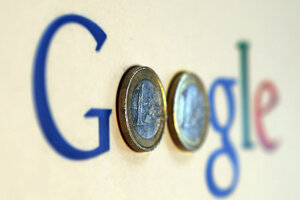 Michael Dalder/Reuters/File
If you've got an Amazon Prime account, you know there's a lot that $79 a year gets you. Access to a library of stream movies and TV shows, e-books that can be downloaded to your Kindle, and free two-day shipping on a hefty portion of the stuff Amazon sells. Now, according to a new rumor, Google is planning to launch a competing service that'll cost a little less money -- maybe just $64 a year.
TechCrunch's Alexia Tsotsis reports that "Google Shopping Express" is in development, and is being built to serve as a "focal point" for the company's existing Google Wallet and Google Shopping services. Put simply, Google is already the first place many people go when they're researching a product -- and Google Shopping Express could be a way for the company to get a piece of the action when people do decide to buy. TechCrunch also notes that the service would do Amazon Prime one better in an important regard: it would offer same-day delivery from big retailers such as Target, Safeway, and Walmart.
---