Apple's rumored iRadio service could be delayed until summer
(Read article summary)
Apple's never formally announced its iRadio streaming music service, but details have been creeping out for months. A new report suggests iRadio could be delayed for a few more months while Apple negotiates royalty rates with record companies.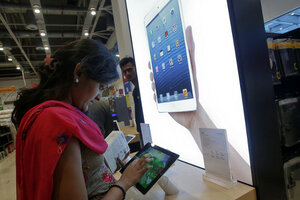 Vivek Prakash/Reuters
iRadio might be Apple's worst-kept secret: the company's never announced it (or named it), but details have been trickling out for months of a Pandora-like music service that would come installed on iOS devices and would serve up a free, personalized stream of tunes. Leaks suggested that Apple was hoping to unveil iRadio early this year, but now a report from the New York Times says we probably won't see it until summer at the earliest.
It all comes down to label negotiations, according to the Times. In order to operate iRadio, Apple has to secure record labels' permission to play the songs in their catalogues. That means paying the labels a small amount of money for each song played on the service (and, hopefully, making that money back through ad sales). But the Times says those negotiations haven't been going well. Sony/ATV is allegedly giving Apple a particularly tough time, which isn't surprising: back in January, the company successfully negotiated a 25 percent increase in royalties from Pandora.
A separate report published in the New York Post outlines more of what's tripping iRadio up: according to anonymous sources, Apple is offering a royalty rate of six cents per 100 songs streamed, half of what Pandora pays (12 cents per 100 plays) and about a sixth of what Spotify pays (35 cents per 100 plays).
---