Nearly 2,000 Netflix movies to disappear overnight
(Read article summary)
Almost 2,000 Netflix movies to disappear as contracts expire and new additions roll in. Just what is Netflix doing?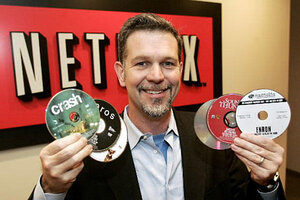 Fred Prouser/Reuters
Netflix lost 1,794 titles overnight. Dubbed "Streamaggedon," the Internet TV giant lost many of its classic titles when the clock struck midnight on April 30.
The loss of the titles comes at the heels of a deal expiration and the introduction of a new streaming service. Netflix's deal with Warner Bros., MGM, and Universal came to an end last night, which resulted in the loss. MGM and Universal titles will now be available for streaming through the $10-a-month service, Warner Archive Instant.
While the vast majority of the films will not be sorely missed, the loss could be an indicator of Netflix's future.
"This licensing deal lapse could just be the beginning of Netflix losing key content that keeps its subscribers coming back," writes Business Insider's Kevin Smith.
To further add to the loss, it was recently reported that Netflix CEO Reed Hastings is considering not renewing a deal with Viacom. If Mr. Hastings does not renew then Netflix will lose titles from networks such as MTV, Nickelodeon, and BET.
Streamageddon 2013 also serves as a reminder of the "great Starz purge of 2012." Just last year, Netflix ended its contract with Starz, consequently losing many big-name movies.
---