Verizon: 4G is (mostly) everywhere, but we need to make it faster
(Read article summary)
Verizon Wireless announced this week that its 4G LTE network now reaches about 95 percent of the American population. With the LTE network now basically complete, Verizon turns its attention to making it faster by deploying extra bandwidth.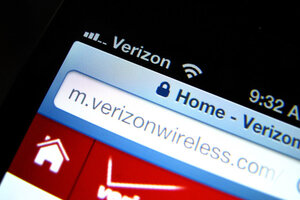 Mike Blake/Reuters/File
Verizon Wireless announced this week that it's confident in its 4G network -- so confident, in fact, that it's going to start slowly retiring the slower 3G network next year.
If you don't have a 4G smart phone, don't worry: Verizon plans to keep the 3G network up and running at least through 2019, although it will slowly begin turning 3G signals into 4G signals in some cities. The company announced in a blog post on Thursday that its 4G LTE (Long Term Evolution) network is basically complete -- it now reaches 500 US markets and covers more than 95 percent of the US population. Verizon now turns its attention to making upgrades to the network to try to address speed issues.
Verizon was the first US provider to roll out a 4G network -- the company began offering service back in 2010 -- but third-party tests say AT&T's data service is faster as of this year. Scott Moritz at Bloomberg reports that this is mainly due to congestion: Verizon has added customers more quickly than other providers, and all those extra devices suck up the once-plentiful bandwidth.
---