Lumia 2520: Nokia trots out its first Windows tablet
(Read article summary)
Revealed the same day as the iPad Air, the Nokia Lumia 2520 is expected to sell for $499 in the US.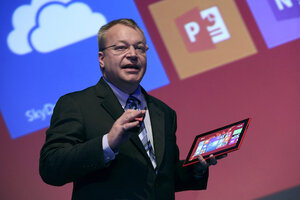 Reuters
So no, it's not particularly good timing, what with the big-budget launch of the iPad Air and the iPad Mini with the "Retina" display.
But on Tuesday, Nokia did take the wraps off the very first Nokia-built, Windows-powered tablet, which the company is calling the Lumia 2520. (As monikers go, 2520 doesn't quite have the same ring to it as Air, does it?) The specs are suitably impressive: a 10.1-inch HD display, an 2.2GHz Quad-core Snapdragon 800 processor, 4G LTE and Wi-Fi antennas, a 6.7-megapixel back-facing camera, and the new Windows 8.1 operating system.
Perhaps the most interesting feature is the "Power Keyboard," a cover/keyboard/bonus battery – think: the Touch Cover on the Microsoft Surface – that Nokia promises will boost battery life by up to five hours, all while making typing feel "as natural as on a laptop."
In a hands-on test with the device, Brad Molen of Engadget said that "if you've played around with Lumia phones in the past, the 2520 will be immediately familiar to you. It's much thinner and sleeker than we originally expected, and it's very comfortable to hold."
---