New Lumia 2520 ad compares the Nokia tablet to ... a mullet?
(Read article summary)
Nokia references the infamous hairstyle in a new ad for the Lumia 2520 tablet.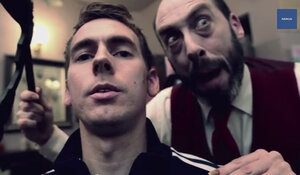 Nokia
The latest way to sell a tablet: By comparing it to a mullet. 
In the deliriously weird new advertisement for the Nokia Lumia 2520 tablet, a young man named David sits down for a haircut, only to find himself alternately caressed, prodded and poked at by a hairdresser with rotting fingernails and the vocal patterns of a B-movie villain. Eventually, David decides on a mullet – short on the sides, long in the back.
While he waits, he's presented with a Lumia 2520, which he dutifully clicks through. 
"So, what do you think?" the barber asks, once his work is finished. 
"Nice," David says. "All set for business."Â 
"All set to party," replies the barber. 
Cue the shot of the bright red Lumia 2520 against a glaring white backdrop. The suggestion: Like the mullet, a haircut once favored by rock stars and country gentlemen, the Lumia 2520 is a multipurpose machine: classy from one angle and plenty of fun from another. It certainly is a novel approach – and at very least, this is an advertisement we won't be forgetting anytime soon. 
The Lumia 2520 is set to debut this month in the US – asking price is $399 with a data contract. On the spec list: a quad-core 2.2GHz Qualcomm Snapdragon; Microsoft's pared down OS, Windows RT 8.1; and a pair of cameras – one front-facing and the other back-facing. 
In a review of the tablet at the Verge, Dan Seifert compares the device favorably with the Microsoft Surface 2, which also runs Windows software. 
"[I]t's a well-made, great performing tablet, with an excellent screen and really attractive price tag," Mr. Seifert writes. "Though the Surface 2 offers some more attractive options, such as the built-in kickstand, USB ports, and better and slimmer keyboard covers, I enjoyed using the 2520 much more due to its wireless connectivity and snappier performance." 
---