Samsung Galaxy S5: A sturdy, snappy phone, but where's the innovation?
(Read article summary)
Early impressions of the Samsung Galaxy S5 are warm, but not particularly exciting.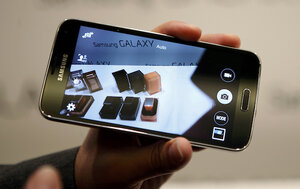 Reuters
In the global smart phone market, there is Samsung, with its 29.6 percent share, and Apple, with its 17.6 percent share, and then there is everyone else. Samsung's success is driven by the Galaxy smart phone line, which has sold by the bucketload in recent years. This week, the Korean company released its newest Galaxy, the S5. Question: Is the device any good? 
Well, according to the deluge of hands-on previews now online, the answer is yes, even if the S5 – despite all of Samsung's talk of "redefinition" – isn't exactly a sea change from the model that came before. As Zach Epstein of BGR has noted, the Galaxy S5 represents an "incremental update. It's not a game-changer by any means." 
Witness the familiar lines, the large 5.1-inch display (a modest increase in pixelated real estate since the days of the S4), and the twin cameras (albeit ones with improved lenses). New this year is a optical heart rate monitor and a pedometer, as well as a dimpled back reminiscent of a golf ball, as Ron Amadeo of Ars Technica points out. 
"It doesn't really look any better in person than it does in pictures – it just seems strange and out-of-place on an electronic device," Mr. Amadeo wrote of the dimples. "While the look of the back is new, on the materials front it's still the same old hard plastic. The public demo units got greasy really quickly." 
One feature that has earned a lot of praise is the fingerprint sensor on the S5, which Samsung says can be used to unlock the phone or even to make purchases online. 
"Adding your own fingerprints when personalizing the device is easy – you swipe your thumb, or index finger, or any other finger from top to bottom on the home button about eight times," writes Maurizio Pesce of Wired. "Activating the recognition is quick and neat, and all of the fingerprint recognition attempts I've made since I got a hands-on unit have worked perfectly."
We'll leave it up to Simon Rockman of the Register to draw the bottom line for us. Suffice to say, Mr. Rockman was suitably impressed by the technology, but not exactly bullish on the device's prospects, especially after being handed a spec sheet by Samsung reps. 
"It was like being given a menu that read 'delicious food, lots of vitamins, very well cooked,' without telling you what you're getting," he wrote. "There is a reason for this, in your humble hack's opinion: The S5 is not a soaraway market-beating product," he wrote. "Don't get me wrong, it is very, very nice, but I got the impression Samsung wanted assembled hacks to look beyond facts and figures for this reason. Samsung should be worried." 
---