Is the future of the Internet in the stars? Facebook thinks so.
(Read article summary)
The Connectivity Lab will help usher in a new era for the Internet, Facebook's Mark Zuckerberg said today.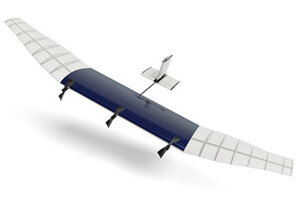 Internet.org
Forget ordinary old social networks. In a blog post on Thursday, Facebook CEO Mark Zuckerberg says the next step for Facebook is the Connectivity Lab, a project devoted to creating a fleet of satellites and drones capable of "deliver[ing] the internet to everyone." 
Referencing Internet.org, a partnership between Facebook and six mobile phone operators, Mr. Zuckerberg says that in the past year, the organization has helped bring three million residents of¬†Philippines and Paraguay online. The next step will be to go extraterrestrial, with the help of a team of engineers culled from¬†NASA'Äôs Jet Propulsion Laboratory, NASA'Äôs Ames Research Center, the National Optical Astronomy Observatory, and Ascenta 'Äď a British company that builds so-called high-altitude long-endurance aircraft.
At this stage, Facebook isn't wading too deeply into the specifics. But a separate post at Internet.org laid out a vision of an Internet powered by high-flying chunks of cutting-edge technology. 
"For suburban areas in limited geographical regions, we've been working on solar-powered high altitude, long endurance aircraft that can stay aloft for months, be quickly deployed and deliver reliable internet connections," the Internet.org announcement says. "For lower density areas, low-Earth orbit and geosynchronous satellites can beam internet access to the ground." 
Zuckerberg, of course, has trussed up this plan in the trappings of magnanimousness, stressing the number of people who might finally find their way online. But as Carly Smith notes over at the Escapist, we shouldn't confuse his words with pure altruism. 
"More people online means greater potential to increase the number of Facebook users," Ms. Smith points out. "This project also stands to compete with Google's Project Loon, which uses solar-powered balloons to deliver internet access worldwide. So far, 30 balloons have been launched in New Zealand." 
[Editor's note: The original headline for this story implied that NASA was involved in this project. In fact, Facebook hired former NASA engineers.]
---