Apple's (AAPL) Yosemite to become available in beta starting Thursday
(Read article summary)
Coming on the heels of its quarterly earnings report, the beta version of Apple's latest Mac operating system, OS X Yosemite, will become available to the public starting Thursday.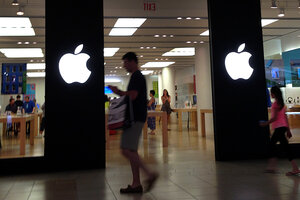 Elise Amendola/AP/File
The latest version of Apple's (AAPL) Mac operating system, OS X Yosemite, will become available for the public in a beta version starting Thursday. 
The consumer tech giant stirred excitement for Yosemite last month at its annual Worldwide Developers Conference (WWDC). There, Apple provided a teaser into how it is expanding its ever-evolving ecosystem of devices. The emphasis was on connectivity. A feature called "Handoff", for example, lets users seamlessly transition whatever it is they're doing on one device – making a phone call, working on a report – onto another. 
Developers have had the chance to experiment with the software since its June announcement. Now, users will get their chance to test it out. 
To do so, you need to sign up for Apple's Beta Program. Then, the following day, you will receive an e-mail from Apple with a link and activation code that lets you to download the latest version of Yosemite. While users will not receive as many updates for their version as developers will, according to Wired, the public beta version will be updated to the same version available to all users once Yosemite is officially released this fall. But as Jim Dalrymple of The Loop points out, downloading software to your computer that's still in development is never entirely safe. Consequently, users are advised to either back up their data or use a secondary Mac to download the software. 
Yosemite comes with a built-in feedback assistant app that lets users report bugs or their overall thoughts on the software to Apple, though only one million users can participate in the program. 
This news comes on the heels of Apple announcing that its quarterly earnings for this year's third fiscal quarter were $37.4 billion in revenue, a 5.9 percent increase from last year. Its quarterly net profit was $7.7 billion.
"We're thrilled with the results, and we're thrilled with where we are going," Apple Chief Executive Tim Cook told The Wall Street Journal. "The momentum is really strong."
Those strong numbers are due mainly to sales of the company's iPhone and Mac products. Apple sold 4.4 million Macs, up from 3.7 million the same time last year. Meanwhile, iPhone sales were 35 million, up from 31 million last year. But the company sagged in iPad sales, with only 13 million units sold, down from 14 million in the previous year. 
Sagging iPad sales, analysts have noted, stem mainly from maturity in the tablet market and the penetration of "phablets" – smart phones with large screens. Consequently, as numerous news reports have noted, Apple will likely be releasing its new iPhone 6 some time by the end of this year. And this new phone will be available in two versions, one with a 4.7-inch screen and the other with a 5.5-inch screen. 
But it is Apple's penetration into China that accounts for much of the iPhone's success of late. Apple said iPhone sales were up 55 percent in Brazil, Russia, India, and China, according to The Wall Street Journal, noting that iPhone sales rose 48 percent in China alone. 
[Editor's note: An earlier version of this story used the incorrect NASDAQ ticker symbol for Apple Inc.]Â 
---