3D TV network readying for prime time
3D TV networks are around the corner, with Discovery, Sony, and IMAX rolling out their starting lineup. But are there enough 3D TV sets in American homes to take advantage of the new shows?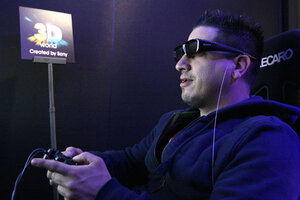 Newscom
Killer jellyfish, ghost towns, and a cartoon weathergirl will be among the stars of a new 3D TV network under development by Discovery Communications Inc, Sony Corp, and Imax Corp, the companies said.
In providing the first look at the 3D TV network's schedule, the companies unveiled 10 series and specials, largely centered on natural history, exploration and children's programing. The network is due to launch in 2011.
Discovery, whose brands include Discovery Channel, TLC, and Animal Planet, announced the partnership with Imax and Sony early last year, and since then has been bringing aboard management and building a roster of shows. In the past, a lack of 3D programing has been one of the big barriers to 3D TV in the home.
---