BMW logo branded on eyelids: How did they do that? [video]
BMW logo on your eyelids? Yes, at a theater in Germany, the company ran an ad that never showed the BMW logo. Yet, afterward, when the audience closed their eyes, the BMW logo appeared. How did BMW do it?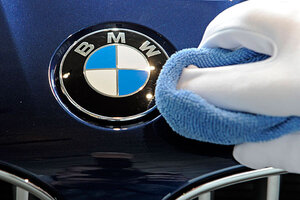 Joerg Koch/AP
In order for advertising to work it needs to be memorable, as well as making us think about what we just viewed or heard. With banner adverts everywhere, and TV adverts repeating multiple times a day, we usually just turn off to the brands and products advertisers want us to focus on.
BMW managed to create an advert recently that everyone viewing it will remember for a long time to come. It was shown at a movie theater in Germany, and managed to leave viewers with an image of the BMW logo on the back of their eyelids. How did they do that?
When you look at the sun for a few seconds and then close your eyes you see a circular dot as if projected on the back of your eyelids. BMW used the same technique, but instead of the sun it used a large flash unit, a big version of the flash utilized on digital cameras. In front of the flash unit was a hollowed out BMW logo, but the audience couldn't see it as it sat behind the screen they were viewing the advert on.
RELATED: Luxury cars: Top 10 most expensive cars recalled
While the advert played out, a well-timed flash was triggered which left a lasting impression of the logo on viewer's retinas. When asked to close their eyes many were surprised to find they could see "BMW" painted on the back's of their eyelids.
A simple technique, but a very well executed and clever advertisement don't you think?
Read more at Wired
Matthew's Opinion
---