Mark Zuckerberg in China: Plans to expand Facebook?
Mark Zuckerberg, the CEO of Facebook, toured the headquarters of Baidu, China's top search engine, Monday. Zuckerberg also had lunch with Baidu's CEO in Beijing. Is a business partnership in the works?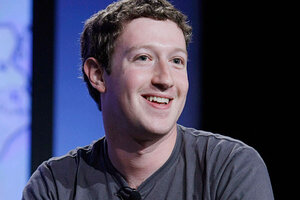 Paul Sakuma/AP/File
Facebook CEO Mark Zuckerberg toured the offices of China's top search engine Monday during a visit that has sparked speculation the social networking magnate is looking for business opportunities in the world's largest Internet market.
Facebook is blocked on the mainland, but Zuckerberg has expressed a business interest in China and has studied Mandarin.
Photos of Zuckerberg's visit to Baidu Inc. were quickly posted online.
Kaiser Kuo, Baidu's director of international communications, told The Associated Press that Zuckerberg had lunch with Baidu CEO Robin Li. He said he didn't know what they talked about but added that the two had met before.
Related: The Social Network: Four things the movie got wrong
Zuckerberg, who co-founded Facebook, is traveling with his girlfriend, Priscilla Chan, and no apparent entourage.
"Mark has had a long personal interest in China," Kuo said.
---