Comcast to share content with Netflix, competitors
Comcast: To take over NBC, Comcast agreed to license popular NBC shows and movies to competitors like Netflix and Apple. the only question is, can they afford it?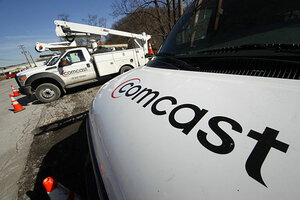 Gene J. Puskar/AP
New Internet video services from companies such as Netflix and Apple are offering a glimpse of a home entertainment future that doesn't include a pricey monthly cable bill.
To challenge the cable TV industry's dominance in America's living rooms, though, online video services need popular movies and TV shows to lure viewers, and access to high-speed Internet networks to reach them.
Yet they have had no rights to either — until now.
To win government approval to take over NBC Universal last month, cable giant Comcast Corp. agreed to let online rivals license NBC programming, including hit shows such as "30 Rock" and "The Office." Comcast also agreed not to block its 17 million broadband subscribers from watching video online through Netflix, Apple's iTunes and other rivals yet to come.
Those requirements aim to ensure that the largest U.S. cable TV company, with nearly 23 million video subscribers in 39 states, cannot stifle the growth of the nascent Internet video business. Although they apply only to Comcast and NBC, these conditions could serve as a model for other big entertainment companies in dealing with new online competitors. They also send a powerful message that the government believes these promising young rivals deserve an opportunity to take on established media companies.
"These conditions are not just window dressing," said Paul Gallant, an analyst for MF Global, a financial brokerage. "They come across as a pretty comprehensive effort to give Internet TV a real shot at taking off."
---