Pandora IPO: Has the new tech bubble already popped?
The Pandora IPO is off to a lackluster start, easing fears of a second Silicon Valley bubble. But will tech darling Groupon perform like a LinkedIn or a Pandora?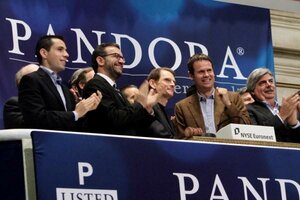 Richard Drew/AP
Pandora's trading debut on the New York Stock Exchange (NYSE) went well, but it wasn't met with the same fanfare that greeted LinkedIn, a business social network went public in May.
Pandora's lackluster first day raises questions of whether the rest of the companies planning to go public in the most recent batch of Web 2.0 companies — which also includes group-buying web service Groupon — will continue to appeal to investors.
Shares of Pandora Media rose as much as 63 percent from their initial public offering price of $16 and were trading as high as $26 after the company made its debut on the NYSE. But that slowly tapered off throughout the day, and Pandora ended the day trading at $17.42 at the bell. Shares of Pandora were down around 0.2 percent from its price at the close to $17.38 most recently in extended trading after the bell.
By contrast, LinkedIn's trading debut went extremely well and the company now has a market cap of around $7 billion, well above the valuation of $4 billion it claimed when it priced the shares of its initial public offering between $42 and $45. Shares of LinkedIn traded as high as $122, giving the company an implied valuation as high as $11 billion shortly after its IPO. But LinkedIn is also profitable, with the company reporting that its first quarter revenue in 2011 was up 110 percent to $93.9 million over the same quarter a year earlier. Net income increased to $2.08 million in the first quarter of 2011, up from $1.81 million in the first quarter last year. By contrast, Pandora has not posted profits in 2010 or 2011.
---