iPhone update debuts Tuesday. Why not get cash for your old iPhone?
The iPhone 5 – or maybe iPhone 4S – will emerge at Apple's special unveiling Tuesday. If you're thinking about getting the latest iPhone, you might as well earn some money off your aging model.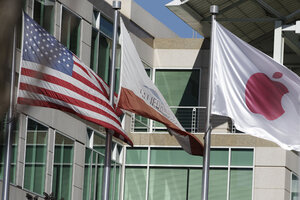 AP Photo/Paul Sakuma
With the expected release Tuesday of the next iPhone, some owners of the current version of Apple Inc.'s hit phone won't sit home and grumble. They'll sell, then upgrade.
Smartphones and other tech gear that are rendered obsolete by the latest version, or just get a little old, certainly are far too valuable to stash in a drawer and forget about. In fact, with an iPhone, you might be able to sell it for nearly the price you paid. But you have to know how to play the "recommerce" game to get top dollar.
Recommerce isn't just for iPhones but for many of today's tech gadgets, from BlackBerry phones to Xbox gaming consoles to laptop and tablet computers. Some consumers are seeking cash, while others just want a "green" way to dispose of their electronics.
"The very worst thing you can do from an economic and an ecological perspective is stick it in your drawer and later throw it in your trash," said Joe McKeown, vice president of marketing and communication for phone buyback site, ReCellular.com. "It's the right thing to do for your pocketbook and the environment."
Used iPhones are an extreme case because they are always in high demand.
Like the price of a stock, price quotes for used iPhones fluctuate on websites that buy gadgets from consumers. Prices vary more on product-launch days like Tuesday. The difference Tuesday between selling in the morning and evening can be real money.
---