iPhone 4S: How the best new feature works
iPhone 4S dramatically revamps its voice command system. Now 'Siri' can control many aspects of the iPhone 4S, without you needing to touch the new iPhone.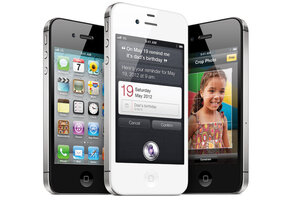 Apple/Newscom
The iPhone 4S, announced Tuesday, led some tech journalists to recall 2007. That year, Apple founder Steve Jobs told the world that his company's phones would be controlled with "the best pointing device in the world ... our fingers."
Today his company announced that users of the new iPhone 4S will be able to use their voices to control it, too.
Holding down the "home" button on the new iPhone 4S, available in the U.S. starting on October 14, summons a "personal assistant" known as Siri that can understand commands given in English, French, or German. It responds in a conversational style in both text and synthesized speech.
Today's event was the first Apple launch presided over by Tim Cook, who recently became CEO after the company's founder, Steve Jobs, stepped down for medical reasons. Cook opened the presentation in the now familiar style established by Jobs, teasing journalists in attendance by spending time boasting of sales figures and new retail store openings.
---