Google reveals futuristic 'Project Glass'
Google released a YouTube video Wednesday showing the everyday uses of "Project Glass," wrap-around virtual reality glasses with all the qualities of a smartphone – and much more. But will it ever be realized?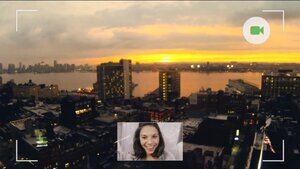 Screenshot/Google
Google has once again unveiled a project mock-up that, if realized, would turn the technology industry on its head. This time, it's Project Glass, wrap-around glasses that display reminders, the weather, messages, and more – right in front of the user's eyes.

"A group of us from [Google's experimental lab, Google X,] started Project Glass to build this kind of technology, one that helps you explore and share your world, putting you back in the moment," says the Project Glass Google+ page. "We're sharing this information now because we want to start a conversation and learn from your valuable input."

While Project Glass is only in the first stages of inception, Google employees are already testing the headsets, according to The New York Times. But so far, it's unclear whether the average consumer will like Google's futuristic technology.
---